About Joel Dare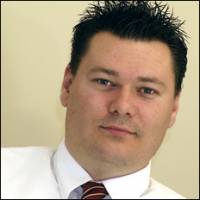 Joel is currently working as the lead Software Development Engineer on the KSL.com Classifieds at Deseret Digital Media. He is part of the Marketplace team at KSL.com and is responsible for the General Classifieds as well as the Cars, Jobs, and Homes sections of that site.
Prior to joining DDM, Joel spent 10 years at Hurdman Communications Inc. developing Web, telephone, database and printing services for the majority of the Better Business Bureau offices in the U.S. and Canada. He also worked as a Support and Training Engineer at Iomega Corporation during the Zip drive boom of the late 1990s.
Joel is a self-educated computer programmer who began tinkering with the TRS-80 Color Computer in 1986, at just 10 years old. After upgrading to his first PC, an IBM compatible 8088, he ran the PoiSoN BBS system for several years from his childhood home.
Joel graduated from Roy High School in 1994 and immediately became an entrepreneur when he opened a retail store, Microtech Computers, in Riverdale, Utah. Shortly after, he developed a shareware application, ButtonWiz, which was recognized as one of the Top 10 shareware applications by Windows Magazine.