Homemade 2x4 Guitar
This is a 2-string guitar that I've built from a pine 2×4 stud and a 2×2 piece of redwood. Each fret is a power chord, so it's very easy to play. The 2×4 I used was recovered from a weathered pallet but any cheap pine stud will work. The 2×2 is from a 3' piece of redwood at the local hardware store. Total cost for wood should be around $5 if you buy it new. A hardwood 2×2, like Oak, would work better for the neck and is only a few dollars more.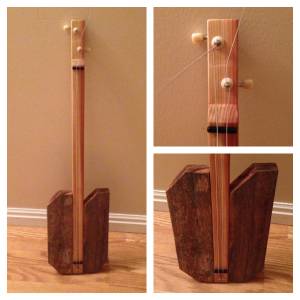 Here's a 3D design I created of the guitar. I created this design in Sketchup. When I cut the final guitar, I messed up on one of the cuts. I liked it better that way, and it works better that way, so this doesn't match the finished product (above) exactly.
I picked up the hardware from various sources. Here are all the items you need. Total cost for hardware was about $25.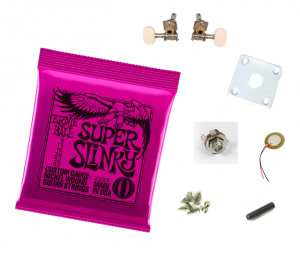 Super Slinky Electric Guitar Strings Size 9

Two Machine Tuners (almost any will work)

A 1/4" Mono Jack and Jack Plate

A rod piezo or disc piezo (I used a rod on this one)

A set screw or piece of dowel for the bridge

A toothpick or skewer for the nut
I encourage you to build your own. It's really rewarding and not as difficult as you might think.