Blank Touch Bar on MacBook Pro Late 2016
Is the Touch Bar on your MacBook Pro dark, black, or blank? Do the buttons only show up after you touch the Touch Bar?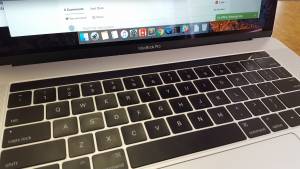 A quick work-around is to hit the fn key on the keyboard. In the default setup this causes the MacBook Pro Touch Bar to show all the function keys instead of the default ones. It's a quick way to clear the touch bar and kinda reset it.
I suspect this is a problem that Apple will fix with an update but I can't find much information on it online. Maybe it's not happening to very many of us? Let me know if you're seeing this problem on your late 2016 model MacBook Pro.