My Inexpensive Road Bike
I purchased the bike on Amazon for $189 and it cost $25 to ship. Lots of reviews said the Aluminum frame was worth the price but the rest was junk. I intend to use it as a starting point and slowly replacem the components I don't like.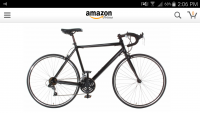 I ordered the Large 59cm version in black.
The original description said the following.
This economical road bike is built on a lightweight 6061 Aluminum frame. It features Shimano A050 thumb shifters and dual brake levers for convenience. It has mount points on the frame for a rear rack, this bike is an excellent commuter.
We've listened to feedback from riders and have introduced some significant upgrades, including updated Shimano thumb shifters - this allows you to shift with your hands on the handle bars. We upgraded the brakes for more stopping power and we've added a third smaller chainring on the front for easier hill climbing.
Full Specs:
Frame: 6061 Aluminum, Water bottle and Rear Rack mount points Fork: Hi-Ten Steel Shifters: Shimano A050 Thumb Rear indexed 7-speed, Front Friction 3-speed Brakes: Alloy Caliper Stem: Alloy 7° Rise Wheels: 700C Double Walled Alloy Saddle: Urban Commuter Brakes: Dual brake levers - Caliper steel Handlebar: Alloy Seatpost: Alloy Pedals: Free platform pedals included Assembly & Tuning is required.
I also ordered an Origin 8 seat ($20) and bar tape ($10), both in yellow. That should make it my own right away.